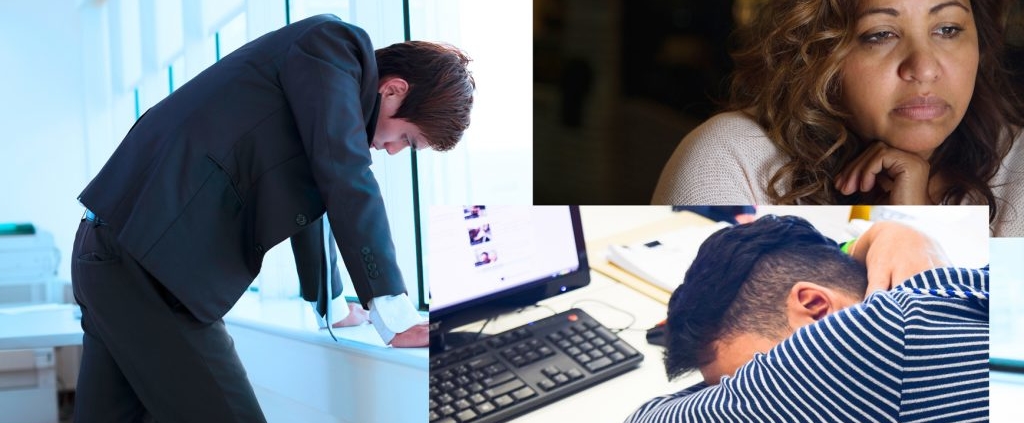 I never imagined I'd be writing this post. But I have coached more stressed and grieving people over the past year than I have in my whole career. Challenges of every sort seem to be buffeting us, and their effects accompany us into all aspects of our lives… including into the workplace and into the hands of devoted community and organizational leaders like you. So here goes: an executive coach's exploration of leadership in brokenhearted times. 
There is no predicting the accident, the diagnosis or the addiction; the mass shooting or the private abuse. The fire, flood, quake or hurricane. The disturbing national event or the cataclysmic organizational shake-up. We think of these as the unimaginable tragedies that happen in other places and to other people. Not here, to us.
But these past many months have reminded us that tragedy can strike right where we stand. The unthinkable happens, and the affected take a bit of time out to register the blow. But then – grieving, disoriented or even traumatized – they show back up to work. They may be walking back into your workplace, to your team. And there you are,  leading people in their most raw and human moments, when their well-pressed suits can't button up their sorrow. If the tragedy has hit your whole community or workplace, you may even have to lead the brokenhearted while your own heart is in shreds.
If this happens to you, it will be a crucible in your journey as a leader, calling upon you in ways you can't imagine. Although you can't predict these moments, you can prepare for them: personally, relationally and structurally.
Preparing Personally 
Who you are is how you lead – and that is never so true as when the chips are down. Your own experience with tragedy will naturally shape how you manage others in heartbreaking times. So it can be helpful to review your own history with trauma, grief and loss, and take clear-eyed stock of their imprint on you as a person and as a leader. The "grit and grace" lens is one simple way to self-reflect.
Grit is a crucial leadership trait in difficult times. It helps you focus on the work at hand, drive to make progress and provide others with a sense of stability and predictability. To what extent does grit show up in you during tough times, and how does it manifest? How has that grit served you or others in tough times?
As useful as grit is, it's also possible to bring so much of it that others experience you as uncaring or unapproachable. For example, has your own history trained you to ignore or power through your own emotions? Is there any chance that you expect (or hope) that others will do the same? Does vulnerability make you squeamish or judgmental? Becoming more at home with challenging emotions (your own and others') can help you prepare to be more open-hearted when others are facing difficult times.
Grace. Perhaps your response to tragedy tends toward grace, which is a key aspect of the 'consoler in chief' role. Grace offers compassion and comfort to those in pain. But too much grace can get you in over your head. You can become so identified with others' suffering that you lose your objectivity and find yourself crossing the line from leader to rescuer or enabler. You can be so flexible as to create havoc on the rest of the team and on productivity. So being too helpful can put you, the employee and the company at risk. If you tend to be grace-full to a fault, you might want to set up some guardrails that prevent you from going overboard on overhelping.
The optimal stance, in tragedy as in most things, is a blend of grit and grace, which allows you to be appropriately sensitive without losing your own footing. A shining example of blended leadership in recent times is Carmen Yulin Cruz, the Mayor of San Juan, Puerto Rico. Here's a clip of Cruz, where her deep care and steely resolve are seamlessly woven together.
Turning grit & grace toward yourself. It's hard to lead well when the well is empty. In times of tragedy or challenge, it's crucial to attend to yourself. Most leaders would tell you that self-care is absolutely necessary, yet few actually put that into practice. They treat it as optional: something they'll get around to when they have the time. But if you are leading the brokenhearted, self-care isn't a nice-to-have; it's a necessity that requires both resolve and self-compassion. Get sleep. Exercise and eat well. Go easy on the alcohol. Do things that nourish you. Draw on your support system; consider getting counseling for yourself. Structure your time, adjust your expectations and renegotiate your commitments to align with the realities of life in a time of upheaval.
Preparing Relationally 
You can't know in advance what people will need when tragedy falls.  But you can prepare by knowing what kinds of conversations you'll need to have when it does.
If you're leading someone(s) going through difficulty, don't make any assumptions about what support he/she/they need from you. Don't assume that what you would want is what they want. Even if you know them well, don't assume that you know the brokenhearted them.  Tragedy changes us and reveals aspects of us that we may not know or show under normal circumstances.
How do you know what support to give someone? Ask them. Does he need time off, or does being in the office help? How does she want you to answer other people's questions about what's going on? What can you share, with whom? What needs to be kept private? Do they want you to check in with them, or would they prefer that you not ask how they're doing unless they bring it up?
Sometimes people can't articulate what they need, but they know what won't work. So if they don't know what support to ask for, you can ask them what you could do that would be counterproductive or unhelpful for them. A lot of clarity and wisdom can surface there.
Even as you accommodate (as possible) someone who's reeling, you still have to make sure that the work gets done. This is delicate terrain, where you need to keep grit and grace in balance. The best way I know to navigate this is to explicitly acknowledge the challenges of working while recovering, and make explicit plans and agreements. Talk with the brokenhearted person, and then the team, about how the work's going to get done while someone is either physically out of the office or is present, but less mentally/emotionally available.
Here's an example from my own experience. My father died when I was 30; my mother had died several years earlier. That second loss really threw me, and my performance was very uneven while I grappled with it. I'd get totally overwhelmed, out of nowhere. My boss noticed this new unpredictability and sat down with me to create a strategy.  We moved one of my deadlines back by a few weeks, and moved one of my projects to a teammate. We agreed that I would work in the office as much as I could, but that I could leave the office on short notice if I felt overwhelmed. Sometimes just knowing I had the space to leave enabled me to stay. Sometimes, I needed to step away for an afternoon or a day. So I briefed a co-worker on my deliverables and kept him in the loop so that he could step in at any time if needed.
It wasn't easy, but it worked. My boss' explicit collaboration with me and engagement with other team members gave me the room to recover without derailing the team's ability to deliver.
Preparing Structurally 
While you may not have given these worst-case scenarios much thought, your organization probably has. Most organizations have created structures to help you support staff through difficult times. Rather than waiting till a tragedy hits to know what these structures and resources are, you can meet periodically with your HR professionals on the following questions:
What actions are within and beyond the scope of your role as a leader, when responding to employees going through challenging times?
What are the resources available through the organization's Employee Assistance Program? How does an employee go about engaging EAP services?
What is the manager's responsibility and process for notifying company officials if an employee appears to be a danger to self or others?
What internal programs (such as leave-sharing, disaster relocation funds) has the company established? How do they work?
Leading the brokenhearted is perhaps the most delicate, difficult and important work you will ever do. It will stretch your character, heart and competence in ways that everyday leadership won't. Though we like to think that tragedy won't happen to us or "ours," the truth is that it can land at your feet in an instant.  And while you'll never be ready, you can prepare.
https://leadershift.net/wp-content/uploads/2017/12/composite-resize-1024x622.jpg
622
1024
Leslie Williams
https://leadershift.net/wp-content/uploads/2018/10/LeaderShift_logo-2.png
Leslie Williams
2017-12-07 20:20:08
2018-12-20 12:51:26
Leading The Brokenhearted