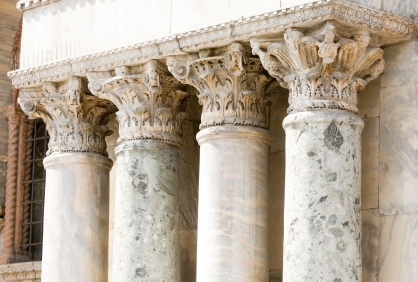 Last year, a company hired me to present "Leading With Grit & Grace" to its senior women executives. When the sponsor asked me to describe the content of the presentation, I said, "It's about how women can wield their power and influence more effectively."  Their response?  "Whatever you do, don't mention the word power in your presentation!"
This client was giving voice to a common discomfort with the notion of power in our culture.  Women seem especially wary of it, as if power is something that we shouldn't claim or own. I think the reason we resist owning – or even talking about – power is because of how we define it. Most of us think of power as an oppressive and constraining force, a tool of domination. And unfortunately, our past and present are riddled with examples of power used in this way.  So these are legitimate concerns.
But because we resist this 'brute force' aspect of power, we tend to send the whole topic underground, burying with it all of power's positive potential.  As we dissociate from the more coercive aspects of power, we also disown our ability to unite and mobilize others for productive and compassionate ends. This positive, connective force is what Joe Weston, author of Respectful Confrontation, calls "true power." Weston contends that true power is supported by four pillars of internal capacity: grounding, strength, focus, and flexibility.
Pillar 1: Grounding. Our personal power is not unlike electrical current. Ground it, and it's productive and safe. But when ungrounded, it has the potential to do real harm, so true power has to begin there. It's the establishment of a strong physical, spiritual, mental and emotional foundation from which to encounter life.  Grounding keeps us rooted in our bodies, beliefs and principles, and thus stable in the face of challenge.  According to Weston, "Grounding…leads to an unwavering self-confidence and conviction in what you do and believe."
Pillar 2: Focus. According to Weston, there are two aspects to focus: "finding stillness in the chaos" and "giving direction to one's efforts."  Focus brings a calm, clear quality to your power.  It enables you to sort through all that's happening in and around you, and make a clear choice about what to bring forward.  Focus concentrates your energy, enabling you to act and speak with intent and precision.  To focus is to take a definite shape, something that can be uncomfortable for women.  To help us move into that discomfort, we need the next pillar: strength.
Pillar 3: Strength. This is the aspect we usually associate with power, and without the other pillars, it can turn into the kind of brute force that we rightly resist. Here's how Joe Weston describes strength: "The innate force of strength is expressed in two ways.  The first is the courage to move out of your safe space and into the unknown, and the second is the physical force to accomplish your goals." Strength is often a real skill of grit-based leaders.  But when strength is not accompanied by grounding or flexibility, it can turn a woman from bold to bitchy.
Pillar 4: Flexibility. Weston believes that flexibility is the most elusive, challenging, yet potent of all the pillars.  He sums it up in a Taoist saying: "In a heavy monsoon, the mighty oak will snap like a twig, but the blade of grass will survive."  Flexibility is the key to versatility, creativity and compassion.  This is often a strong pillar for grace-based leaders, yet they will tell you that flexibility without the support of other pillars can result in weakness.  A leader who is grounded, clear and strong – while also able to adapt and adjust – is a force to be reckoned with.
What about you?
Each of these four pillars is essential to 'true power,' but the real potential lies in achieving balance in all four.  Which of these pillars are most developed in you?  What do those strengths make possible for you and others?  What happens when you overuse those pillars to the neglect of the others?
Which of these pillars is least developed in you?  What impact does that have in your ability to express 'true power?'  How will strengthening that pillar help you to accomplish something that really matters to you?
What one or two steps can you take right now to get started?
To find out more about Joe Weston's work, go to http://www.respectfulconfrontation.com/
https://leadershift.net/wp-content/uploads/2013/05/four-pillars2.jpg
282
418
Leslie Williams
https://leadershift.net/wp-content/uploads/2018/10/LeaderShift_logo-2.png
Leslie Williams
2012-02-20 09:54:34
2012-02-20 09:54:34
The Four Pillars of True Power