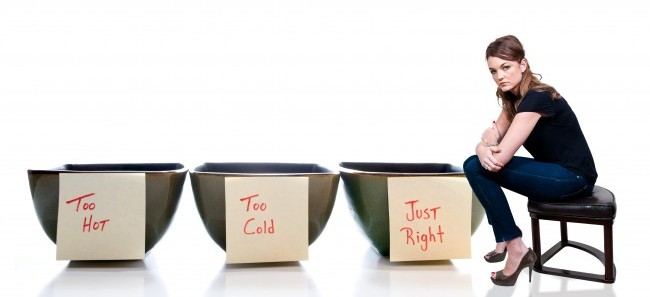 Recently, I was talking with a colleague about my work in coaching women to lead with grit and grace in tandem. The colleague replied, "Oh! I know exactly what you mean. I use the "Goldilocks" metaphor to describe that. You know: not too hard, not too soft. Just right." To which I replied, "That's exactly NOT what I mean."
I've heard of the Goldilocks principle before, and it rankles me. I hate the idea that women leaders should strive for a tepid compromise between directness and sensitivity. That is too confining. It offers too little potential for impact. And it's too wimpy an approach for the problems we face.
The most effective and impactful leaders I've worked with do not lead from the cautious, skinny middle. They fully inhabit the whole stylistic range. Rather than expressing a weak dilution of drive and compassion, they express both at full-throttle and in the same moment. They can kick butt with great kindness, and can lend you a hand without letting you off the hook. When leaders braid the robust strands of grit and grace within themselves, their outer impact is precise, skillful and potent.
People often ask me for examples of full-strength grit&grace leaders. I've profiled a few: first ladies Michelle Obama and Betty Ford; long-distance swimmer Diana Nyad; author, professor and TV host Melissa Harris-Perry; U.S. Senator Elizabeth Warren. Liberian peace activist Leymah Gbowee and Canadian Prime Minister Justin Trudeau are high on my list of profiles to write.
Make no mistake, Goldilocks. You can't hold a candle to any of them.
What about you?
Perhaps you're lucky enough to know one of those rare leaders who has integrated a strong spine and open heart. It could be a man or woman, a public figure or private citizen.
Who in your experience models that full-spectrum brand of influence?
What does that leader inspire, ignite or accomplish that others don't, can't, or won't?
In what specific ways does her/his blend of grit and grace contribute to those kinds of results?
What can you learn from his or her example that you could apply into your own way of influencing and leading others?
I'd love to hear about your role models for grit&grace leadership. So comment and let me know who they are and how they have affected you and the world around them.
https://leadershift.net/wp-content/uploads/2016/05/goldilocks-e1462304017432.jpeg
297
650
Leslie Williams
https://leadershift.net/wp-content/uploads/2018/10/LeaderShift_logo-2.png
Leslie Williams
2016-05-04 20:19:03
2016-05-04 20:19:03
My Beef With Goldilocks