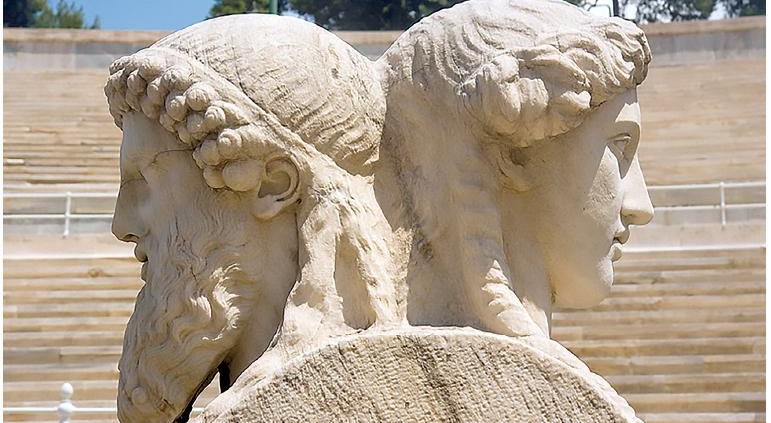 As the days grow short and nature draws us into silence, Western Christian culture flings us headlong into the "Lights! Camera! Action!" of the holidays. Clean, shop, cook and eat til you drop on Thanksgiving. Line up the next day for Black Friday shopping specials. Keep scrambling after work for gifts for everyone, including the 'safety' gifts you store up in case someone springs that unanticipated prezzie on you. Host/attend office and social holiday parties. Host/attend family holiday celebrations: often several, in different cities. Recover 'till New Years Eve, only to glitz up and hoist a glass too many. Then leap back into work, which reprises at break neck speed.
Why do we catapult ourselves into hyperdrive, when our wisdom traditions, including the vast wisdom of nature, calls us to introspection? One of my favorite wisdom teachers for this time of year is the Roman god, Janus, after whom January is named. He/she/they are the two-headed figure who look both backward and forward, taking stock of what's been and gazing at what's awaiting.
If you're lucky enough to have another minute before careening back to work, might I suggest that you take Janus up on their invitation, and cuddle up together with a cup of tea and a journal? I've been steeping a few questions for you, just in case.
Looking back
What was 2019 'the year of' for you? In the story of your life, what will the title of Chapter 2019 be?
What is in your life today that wasn't here, or here in the same way, this time last year?
What or whom has been lost in 2019?  What's been shed or become irrelevant?
What things, people, relationships, experiences, ideas, and forces have occupied your attention this year?  How do you feel about where you've spent your energies?
What did Chapter 2019 teach you most powerfully?
Which of 2019's contributions to you would you like to carry with you into 2020?
Looking ahead
Warning: Janus and I are staunchly anti-NYE resolutions, so you won't find any encouragement to set a higher bar so that you can bear down harder on yourself in 2020.
As you turn toward the promising unknown, what do you sense might be calling you?
What intentions or invitations would you like to extend to 2020?
What good shake-ups would you like to come your way?
Are there any small ways that you could be more available for the things you're intending or inviting in?  For example… any beliefs you might challenge? any settings you could put yourself in? any connections you might make? any topics you might become more informed about? any expectations or standards that might be choking off ease or opportunity?
What are the two or three qualities with which you'd like to meet every challenge and triumph that awaits you in the year ahead?
Maybe these are the perfect questions for you; maybe they will lead you to better ones. What I hope is that you will take the precious opportunity of this moment to really land in yourself, your life, your lessons and your yearnings. As I look back and ahead on this first day of an awaiting year, I'm overcome with gratitude for so much, even (in my better moments) for the things that were really hard. But the work I've gotten to do with so many of you has been among my greatest treasures and lessons.
May 2020 be a year of bounty and well-being for you, your communities and families, and this aching world.
https://leadershift.net/wp-content/uploads/2020/01/twofaced.jpg
504
771
Leslie Williams
https://leadershift.net/wp-content/uploads/2018/10/LeaderShift_logo-2.png
Leslie Williams
2020-01-01 12:34:34
2020-01-01 13:20:12
The Invitation of Janus